As a coach, consultant or service provider, you know exactly what it's like to suffer from the following two main problems…
Not being able to position yourself as the "go to" person and get fully booked consistently…
Not being able to work with high-end clients and charge what you KNOW you're worth…
I know. I used to be there too.
Then, I discovered something…
I discovered there is one major roadblock which prevents MOST potential clients from ever doing business with you. To even consider doing business with you, they must first get over this major barrier.
That barrier is…
… TRUST.
And that's why today I'd like to discuss 5 unique ways of improving trust in a more deep and connecting way. Let's start with…
Trust-Builder #1: Stories
Personal stories of your life should be the cornerstone of your marketing. If you want people to trust you, you must connect with them on a personal level.
Why?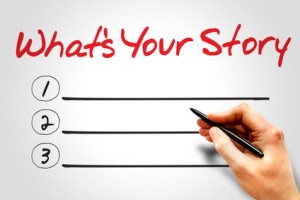 People buy from others they know, like and trust. Everyone has a local shop they go to because they know the owner. They might pay 30% more at that store than they would at Walmart, but they still go back and give him/her the business. It's because they want to help him out.
So what kind of stories do you tell?
The first step is thinking of who you are at a deep level.
Here's an example…
For me personally my positioning strategy is… I'm a very authentic, trustworthy, integrity-driven, down to Earth family man. I took this positioning because that's who I am. In my marketing, I simply show examples of it through stories.
I might talk about how my wife and I went on a date night. Or how my son (who has Autism) is doing great at school. Or how I just bought a new quad because I'm working too hard and needed to get out in nature.
Positioning through storytelling should be the starting point for all of your marketing efforts.
In fact, it's the FIRST profit pillar in this video discussing the 4 profit pillars every service provider, coach and consultant must understand to get and stay fully booked while at the same time charging higher fees.
Look, writing compelling stories doesn't need to be difficult. There are only 3 parts to writing stories you need to grasp in order to increase sales for your your products and/or services.
They are…
Pull entertaining or emotional stories from events happening in your daily life…
Transition that story into a tip/lesson the reader can use right now in his business…
After you explain the benefit of the tip/lesson insert a call to action (this is where you tell them to take action)…
Let me give you a few real-world examples to make this clearer.
I could talk about taking my wife on a date night, and then transition that into explaining why good marketing is like taking your prospects on a date…
I could talk about my son starting school and transition that into a discussion on not being afraid to try new marketing strategies even if they're scary…
I once wrote an email discussing how I went for a walk with my family and watched as a customer went through my sales funnel and bought every single product I offered…
It takes time to get the hand of it. But once you get this strategy down, you'll have a skill that's VERY hard for your competitors to beat.
Trust-Builder #2: Damaging Admissions
In a recent podcast episode, I discussed why damaging admissions, (the process of purposely pointing out your own weaknesses in order to establish trust) is a powerful way of improving your overall closing rates. Let me explain, the purpose of a damaging admission is to point out one or more weaknesses in your product or services, and immediately following up by undoing the damage by explaining how that weakness is actually a perceived benefit in the mind of the reader.
Here's the basic structure…
First, you reveal something to a potential client (you specialize in blue widgets) which "might" be perceived as a weakness.
Then, you explain the reasoning behind it.
Finally, you point out the specific benefit given to the reader.
For example you might say something like…
"Here at X, we typically can't work with you immediately. Our business is fully booked at all times because we put our best work into every project we do. That's why we achieve such consistent, dramatic results for our clients."
Damaging admissions are a powerful tool you can use whenever you're trying to bond and build trust with new clients. Think of the last time you had a friend "open up" to you. Didn't you instantly feel a stronger bond with your friend, like you could trust them with anything?
Damaging admissions can be powerful in helping you create the same warm, fuzzy feeling with your new clients.
Trust-Builder #3: Always Do As You Say
Think about the people you generally hang around with. This could be your friends, colleagues, business partners, or anyone else you know.
Have you ever noticed that you tend to like and trust those people who show up on time, keep their word and always do what they say they're going to do?
On the other hand, ever notice how you tend to quickly develop distrust and negative feelings towards that friend who always has an excuse as to why he's late?
Being reliable is a very, very powerful way to gain trust with your potential clients. (It's also a great way to gain confidence.) Simply DO what you say you're going to do!
So if you're scheduled to call a client at 3:00… make sure you call them at exactly 3:00. Not 3:01…
If you told a client you'd reply back by a specific date, make sure you do…
If you've promised to deliver an important document, make sure you do…
This might seem "elementary", but trust me, it's not. This is a very subtle but incredibly powerful persuasion technique you can put into every single step of your marketing campaigns when you are looking to attract high quality clients. And it takes no extra effort.
And speaking of doing what you say, let's move onto…
Trust-Builder #4: Prove Your Authenticity
I recently had a client send me $13,000 (That's not a typo.) which is a pretty good sized chunk of change, but that's not the incredible part.
What's incredible is the fact that I never talked to him on the phone.
Not even once.
In fact, it only took 3 back-and-forth emails to close the deal!
All he needed to become persuaded to work with me was listen to one of episodes on my podcast, look at my website, and he instantly trusted me because he saw how authentic and REAL I was.
Being, and showing, your authenticity is one of the fastest ways to increase your level of trust with any level of potential client. They don't want to work with someone hiding behind a computer screen, they want a real person, willing to be themselves and show their true colors. (warts and all)
So take a look through your current marketing campaigns. Could you be turning away 6-figure gigs because of your not being your true self?
And that brings me to my final tip for today…
Trust-Builder #5: 
Showcasing Your Expertise
Here's the deal.
You can have all the trust in the world, but if you don't actually demonstrate to the client in front of you how you can help them solve the problem he's having right now, you'll never make the sale.
It's as simple as that.
So how do you showcase your expertise? Simple. Here are a few ways…
Create 'real life' case studies illustrating how you helped a client solve a difficult problem…
Prove your expertise through education. This can be in the form of a book, infoproduct or video coaching course…
Giving them "results in advance". Here you are showing the client how to get a positive result even before he works with you…
Display credible logos and refer clients to sites where you've been published as an expert…
… and these are just a few ideas off the top of my head.
Showcasing your expertise establishes trust by demonstrating your authority in the marketplace. But the important part to understand is this…
… without trust, showing your expertise will do NOTHING.
That's why I constantly teach my own students to showcase their expertise through what I like to call "demonstrative education".
It's actually very simple.
You build trust and showcase your expertise not by "telling" your audience why you're so special… but by SHOWING them.
And that's why I've created a unique video for coaches, consultants and service professionals.
It shows you the 4 profit pillars every coach, consultant and service professional must have in place to get, and stay, fully booked so they can start commanding higher and higher fees.
You can watch that video here…
Enjoy!
Jeremy Reeves
Latest posts by Jeremy Reeves
(see all)